NEWS
Current Events - Future Events - Recent Events

_________________________________________
Current Events
January 26th 2016


THE PHOTOGRAPHERS WHO KNOW SPRINGSTEEN'S
BEST ANGLES SHARE INTIMATE SHOTS IN NEW EXHIBIT
villagevoice.com


January 20th 2016



Bruce Springsteen, Impresario of His Own Image
Springsteen group photography show
http://www.wsj.com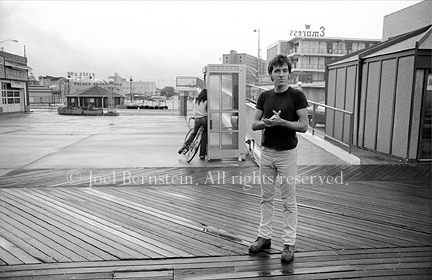 February 2nd 2016


http://www.thedailybeast.com/articles/2016/02/07/
how-bruce-springsteen-became-the-boss.html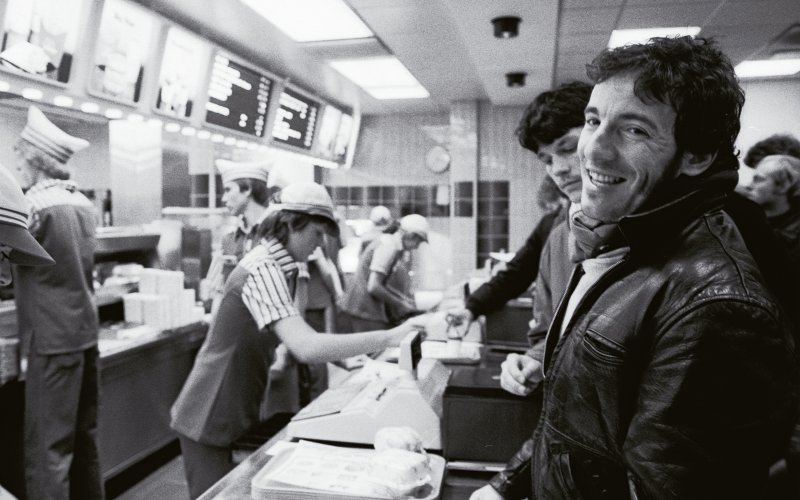 December 2015
A number of Joel's photographs of Bruce Springsteen & The E Street Band used in
the The Ties That Bind: The River Collection box set were also chosen by Bruce to
be used in the promotion of his upcoming The River 2016 Tour, including the
tour's ad mat and logo, below:
The above photo (taken in Oakland during the original River Tour in 1980) and others of Joel's
photographs will be used in producing some of the official tour merchandise as well.
December 4, 2015
Bruce Springsteen
The Ties That Bind: The River Collection


4CD+4DVD (or 4CD+2Blu-ray Disc) box set
is released by Columbia Records/Sony Music Entertainment,
featuring 75 images by Joel Bernstein, many previously unpublished,
chosen by Bruce to be included in either the book, package or the video
documentary directed by Thom Zimny. You can view a selection of these
images in the Bruce Springsteen section of this site.
October 30, 2015

Group show - opening
Bernstein, Diltz & Nash
Morrison Hotel Gallery, Soho, NYC
Show ran until November 16, 2015
October 29, 2015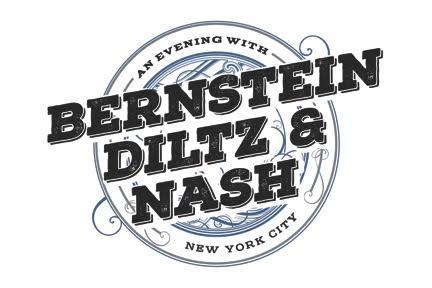 Event at the Roxy Hotel, Tribeca, NYC
An Evening with Bernstein, Diltz & Nash
Joel Bernstein, Henry Diltz & Graham Nash
Conversation and presentation of photographs 1966 to the present
August 29-October 15, 2015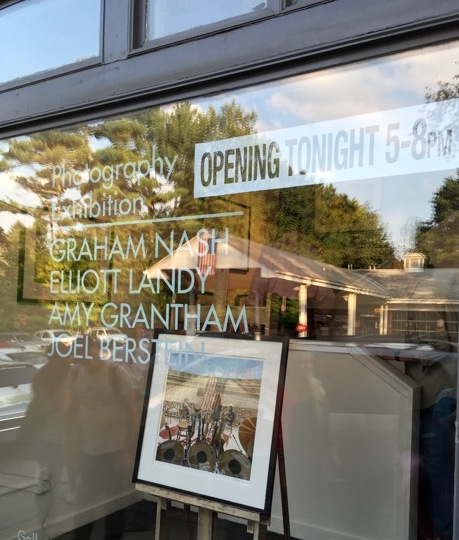 Legends At Large:
A group show of photographs by Graham Nash, Elliot Landy,
Amy Grantham & Joel Bernstein at the Fletcher Gallery,
Woodstock, NY.
Current Events - Future Events - Recent Events

_________________________________________

Recent Events
May 10, 2015
A photo of Joel's (below) is featured in Bill Graham and the Rock'n'Roll Revolution, an exhibition on the
life and work of Bill Graham, legendary concert promoter, currently on view at the Skirball Museum at the
Skirball Cultural Center in Los Angeles until October 11, 2015.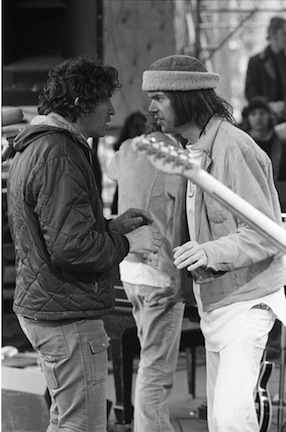 Bill Graham & Neil Young
Eye to eye
Sound check prior to S.N.A.C.K. benefit concert
Kezar Stadium, San Francisco, March 22, 1975
© 1975 Joel Bernstein. All rights reserved.
May 8, 2015
Joel's photographs of Joni Mitchell were included as part of the concert program at a gala tribute to Joni Mitchell
at SFJazz in San Francisco on May 8, 2015, featuring Joe Jackson, Patty Austin, Kris Kristofferen, Brian Blade
and the SFJazz Collective. Seventeen images from Joel were projected above the stage on a 30' screen
during the concert program; see below:
http://hauteliving.com/2015/05/sfjazz-gala-joni-mitchell/568713/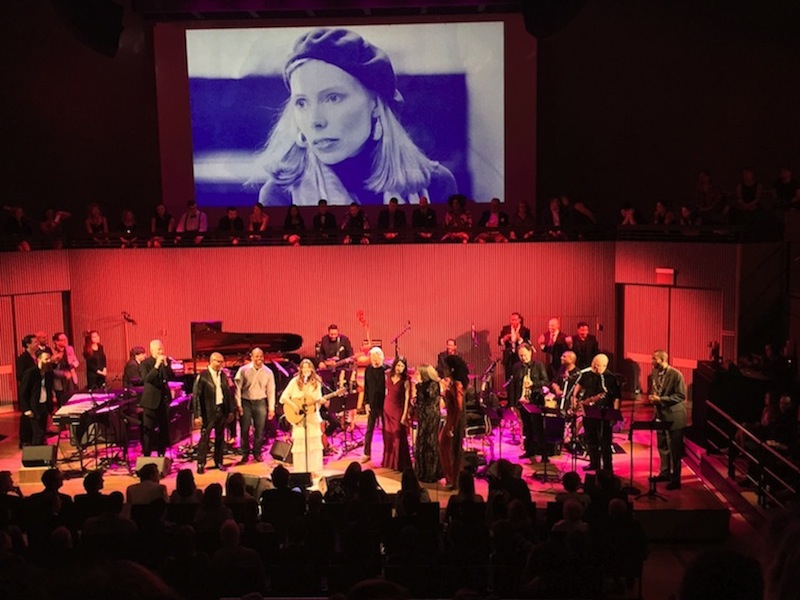 ©2015 Joel Bernstein
July 10, 2014
On July 10th, 2014, Crosby, Stills, Nash & Young released their 3CD + DVD box set, CSNY 1974 (pictured above), including 40
music tracks and 8 video tracks from the band's 1974 tour, co-produced by Graham Nash & Joel Bernstein. The set is also available as a
Blu-Ray Pure Audio disc containing high resolution, master quality audio plus the DVD. The front cover, package and booklet of both of
these sets feature over 120 photographs by Mr. Bernstein, then the tour photographer.

As of today, July 10, the box set is ranked the No. 1 bestseller in all Music on Amazon.com, as well as the No. 1 bestseller in the
Rock and Pop categories.
Here are some articles prior to the set's release that feature Joel Bernstein:
from Rolling Stone, May 22, 2014, by Andy Greene
http://m.rollingstone.com/music/news/crosby-stills-nash-young-live-1974-box-set-out-this-summer-20140522
__________________________________________
from The Wall Street Journal, June 24, 2014, by Marc Myers
http://online.wsj.com/articles/crosby-stills-nash-young-and-the-first-big-stadium-tour-1403633596?KEYWORDS=csny
__________________________________________________

Front cover image:
Crosby, Stills, Nash & Young
Performing "Suite: Judy Blue Eyes"
Oakland Alameda County Stadium, July 13, 1974
Hand-coloring by Brian Porizek
©1974 Joel Bernstein. All rights reserved.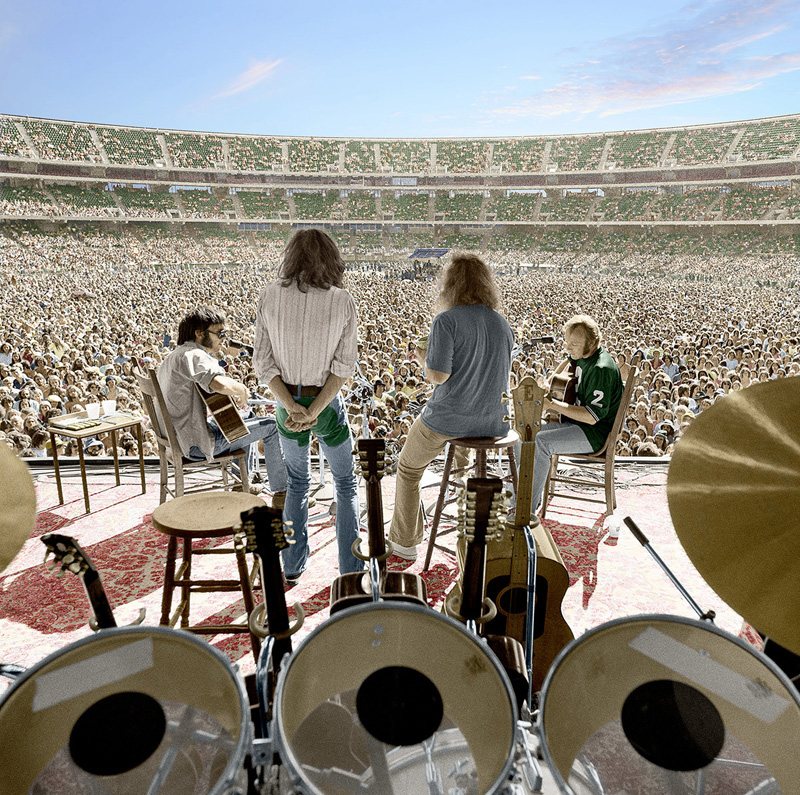 Booklet front cover:
Crosby, Stills, Nash & Young
Rehearsing backstage,
Rich Stadium, Buffalo, NY
August 11, 1974
© 1974 Joel Bernstein. All rights reserved.
From inside the booklet:
Crosby, Stills, Nash & Young
Rehearsing at Broken Arrow Ranch
June 29, 1974
Hand-coloring by Brian Porizek
© 1974 Joel Bernstein. All rights reserved.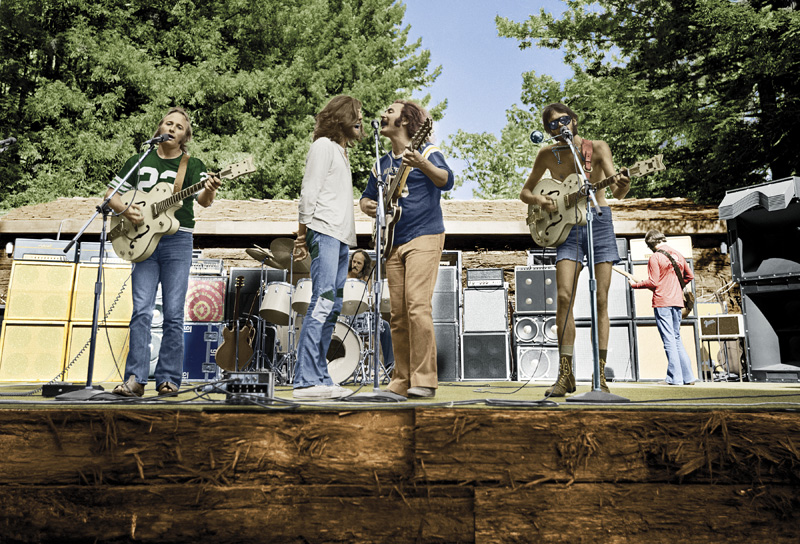 Prints of the above three images are now available from The Morrison Hotel Gallery.

Please visit the gallery at the Morrison Hotel. Click here or on image below.


______________________________________
May 9th, 2014

The GRAMMY Museum is pleased to present California Dreamin': The Sounds of Laurel Canyon, 1965 - 1977,
an exhibition that opened on May 9, 2014.
Recent Exhibitions

California Dreamin'–The Sound of Laurel Canyon
Photographs by and memorabilia from the collection of Joel Bernstein are featured in
"California Dreamin'–The Sound of Laurel Canyon" exhibit at the GRAMMY Museum in
downtown Los Angeles, which opened on May 9 and runs through November 30.
http://www.grammymuseum.org/on-display/special-exhibits/laurel-canyon

Forever Young: The Art of Music Photography
A group exhibition at the Peter Fetterman Gallery, Santa Monica, California (2012)
features iconic images in the field of music photography by Annie Leibowitz, Alfred Wertheimer,
Astrid Kirchherr, Don Hunstein, Danny Clinch, Mark Seliger, and Joel Bernstein
Two Takes on Neil Young
A joint exhibition with Henry Diltz of images of Neil Young
at the Morrison Hotel Gallery, Soho, NYC (2011) and
at the Blender Gallery, Sydney, Australia(2011)

Taking Aim–Unforgettable Rock'n'Roll Photographs Selected by Graham Nash
A group exhibition at both the Experience Museum, Seattle & the Museum of Photography,
San Diego, 2010

Bruce Springsteen—Troubadour Of The Highway
A group exhibition of photographs organized by the Weisman Art Museum, Univ. of Minnesota,
Minneapolis; also on exhibit at the Cranbrook Art Institute, Detroit; Experience Music Project,
Seattle; and the Newark Museum, Newark, NJ, 2004

50 Designers/50 Costumes—Concept to Character
A group exhibition of costume designs and their inspirations showing at
The Academy Of Motion Picture Arts & Sciences, Beverly Hills, CA, 2004

Kodak Rock Photography Collection
A touring group exhibition of the top 500 images in rock photography, sponsored by the
Eastman Kodak Co., 2003
__________________________________

October 4, 2012
UK exhibition
Neil Young: photographs by Joel Bernstein

What a treat to be able to announce Joel Bernstein's first UK exhibition of work from his Neil Young archives.
This exhibition kicks off on Thursday 4 October at 11.00am at the gallery, but images from the exhibition are online now. They are available to purchase in a range of physical sizes to suit your wall space. This is the first time that Neil Young has been the subject of one of our gallery exhibits, and I am quite embarrassed that it has taken me this long!
more
June 30, 2012
• We are pleased to announce that Joel Bernstein's photographs have been chosen for a milestone group exhibition, "Forever Young: The Art of Music Photography," which will be on view at the Peter Fetterman Gallery in Santa Monica, California from June 30-September 8, 2012:
Forever Young: The Art of Music Photography
features iconic images in the field of music photography by Annie Leibovitz, Alfred Wertheimer, Herman Leonard, William Claxton, Astrid Kirchherr, Gered Mankowitz, Ethan Russell, Don Hunstein, Danny Clinch, Mark Seliger, Graham Nash, Joel Bernstein and others

Joni Mitchell, Skating on Lake Mendota
Madison, Wisconsin March, 1976
June 30-September 8, 2012

Peter Fetterman Gallery
Bergamot Station
2525 Michigan Avenue A-1
Santa Monica, CA  90404
________________________________________________________
May 1, 2012
Joel Bernstein Photography announces that Joel's photographs are now represented in San Francisco exclusively by the San Francisco Art Exchange, 458 Geary Blvd., San Francisco, CA
To quote from their own description:
We work with over 70 important artists and photographers whose contributions to our collective visual history and cultural narrative are immeasurable. Much of the popular iconography with which we are all familiar, were conceived and produced by fine professionals and true legends in their craft. We are honored to present, online as well as in our downtown San Francisco gallery, among the most historically significant popular imagery by some of the most prominent artists and photographers who produced them.
Home page: sfae.com
Joel Bernstein page
June 21, 2011

http://blogs.wsj.com/speakeasy/2011/06/21/10000-photos-of-neil-young/


June 6, 2011
• Joel is pleased to join his longtime friend and fellow photographer Henry Diltz in an exhibition of their photographs of Neil Young, on display at the Morrison Hotel Gallery–Soho, 124 Prince St., New York City, from June 17-August 31, 2011.

https://www.morrisonhotelgallery.com/search/default.aspx?search=Joel+Bernstein

December 5, 2010
• We are pleased to announce that starting today, Joel's photographs will be on display at the Peter Fetterman Gallery, 2525 Michigan Ave. A-1, Santa Monica CA
http://www.peterfetterman.com/artists/joel-bernstein
| | | | | | | |
| --- | --- | --- | --- | --- | --- | --- |
NEWS
Current Events - Future Events - Recent Events
_________________________________________
Future Events
To be announced